Event box
TRC Immersive Stories, Story Teller: Jamie Wilson
In-Person / Online
Immersive Stories: Truth & Reconciliation
Story Teller: Jamie Wilson Host: Dayna Graham
Date: Tues. Oct. 18, 12-1pm. Location: Immersion Room, Main Floor, eTV Studio (NDC) & Online
The Immersive Stories Program will offer participants a first-hand opportunity to gain more knowledge and understanding about multi-layered socio-cultural identities and lived experiences. This will contribute to an enhanced skillset that will help them to regularly check their personal, social and cultural assumptions, and manage quick conclusions and judgments. This in turn will contribute to our efforts to foster a diverse and inclusive College environment for students and faculty.
Each session in the Immersive Stories Program will involve a discussion with a member of our Red River College Polytechnic community, during which they will share their unique lived experiences, and invite participant questions and dialogue. These conversations will provide participants an opportunity to gain insights into the lived experiences of our diverse community and will assist in becoming aware of our own biases.

Jamie Wilson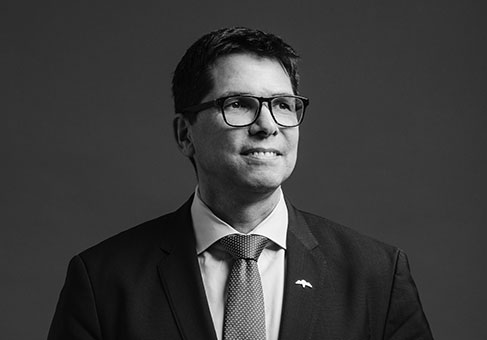 Jamie is a visionary from Opaskwayak Cree Nation who is passionate about building bridges between First Nations and business communities, as a pathway to a strong and prosperous economic future for all.
With a background as an educator, an elite military Ranger, industry executive and as Manitoba's Treaty Commissioner, Jamie is uniquely positioned to lead the province's economic portfolio as the Deputy Minister of Growth, Enterprise and Trade. GET is primarily responsible for implementing the Government of Manitoba's ten point economic plan and ensuring results in economic development policy and program decisions.
Jamie's greatest leadership strengths are as a facilitator and relationship builder where his calm and thoughtful demeanor enables him to navigate complex discussions and often highly charged situations, to positive and successful outcomes. Jamie is passionate about bridging the gap between First Nations and business communities, to help create greater educational opportunities, joint ventures and partnerships.
On Ancestral lands, he is an award-winning environmentalist and survivalist who teaches the traditional ways of land navigation, and subsistence living. He has also long advocated for the equality of women in ceremony and in leadership.
Jamie earned his B.A. at the University of Winnipeg and his M.Ed. Administration from the University of Manitoba. He also holds a U.S Multi-Subject Teaching Credential from California State University and possesses K-12 teaching experience in public school systems: on-reserve and U.S. charter schools. Jamie also holds an ICD.D designation from Rotman School of Management and graduated from the Executive Program at Stanford Graduate School of Business.

Jamie Wilson is now the Vice President of Indigenous Strategy and Business Development at Red River College Polytechnic.

At this session, Jamie Wilson will welcome questions about:
Treaty education

Indigenizing education

Creating business opportunities with First Nations communities

Military

Sport
Date:

Tuesday, October 18, 2022

Time:

12:00pm - 1:00pm

Time Zone:

Central Time - US & Canada (change)

Location:

Immersion Room, Emerging Media and Production Studio, NDC, 2055 Notre Dame Ave.

Campus:

Notre Dame Campus

Categories: